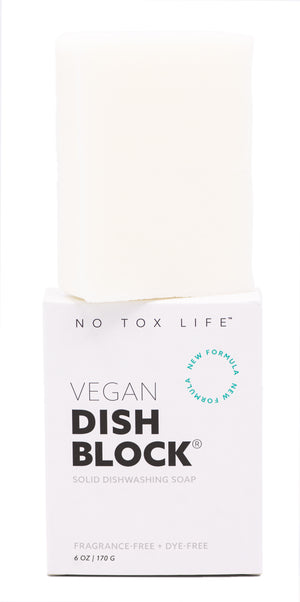 No Tox Life - DISH BLOCK®
Sale price Price $9.98 Regular price Unit price / per
 This fragrance and dye free dish soap is great for removing grease and grime.  Made with biodegradable, vegan, and septic safe ingredients, it can also be used around your house on a variety of fabrics and surfaces as a grime or stain remover.* Because of the added aloe vera, the DISH BLOCK® is also gentle on your hands and skin.
How to use: Scrape dishes to remove excess grease and food. Wet brush and rub the DISH BLOCK® soap to create suds. Rinse well. Works in all water types including hard water.
Vegan. Phosphate-free, sulfate-free, paraben-free, fragrance-free, gluten-free, cruelty-free. Made without palm oil.
Warnings: This product is not meant to be cut. It is a very solid bar. It is not able to be cut into smaller pieces safely.  Do not leave sitting in a pool of water, it needs to stay drained and dry between uses. 

*Test in an inconspicuous spot for new materials you wish to use it on to ensure compatibility. Not recommended for delicate fabrics, with naturally dyed products or for use on porous stone surfaces such as granite, quartz or marble. We do not guarantee compatibility with all materials.

(There will be imperfections, chips, cracks, fissures and roughness on the bar and rough variations on the surface, this is normal.)